A 7-Step Guide to Applying for Medical School
By TOI Staff January 21, 2023 Update on : January 21, 2023
Getting into medical school can feel daunting because of how tight the competition can get. You will need more than a good track record, a nice GPA, and letters of recommendation to raise your odds of entry.
Despite this, you don't have to make the process more difficult than it is. The key to a successful application involves taking smart choices to represent your potential as a student. There's no need to panic, so long as you know what to do.
For that, it also helps to know what not to do. This Medical Aid article, among many other resources, goes into the common mistakes applicants make that cut their chances of entering their institution of choice. Take some time to read it to get valuable insights.
At the same time, you should learn the best practices for improving your chances of getting accepted.
Here are seven steps to applying for medical school.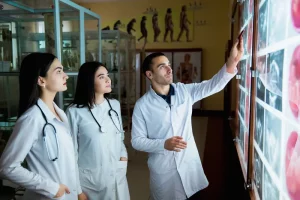 1. Look For The Top Medical Degree Options and Schools
Depending on your area, you may find numerous high-ranking medical schools close to you. Alternatively, you may go further for other great options if you're willing to move.
Assess each of them and note down the ones that look promising. Next, go through the degrees they offer to see if you would be interested in pursuing them. Then, check out the school's prerequisites, such as minimum application metrics, clinical requirements, and the average tuition fee. It also helps to learn how many students have completed their studies successfully. Your choice of school may affect your job prospects, after all.
From here, narrow your choices until you find the one that provides the program, study arrangements, and job prospects you want.
2. Gain Experience and Skills
Since there's stiff competition in the application process, it pays to have additional skills that give you a leg up over other candidates. Consider taking some time to do community work to gain experience. You can work as an assistant to a physician, have a stint as an Emergency Medical Technician (EMT), or volunteer at a shelter, as well.
3. Take the Medical College Admissions Test (MCAT)
You're required to take the MCATs and pass them before you can get into any medical school. Under this test, you'll cover mathematics, psychology, physics, chemistry, and biomedicine. Study for them extensively to increase your chances. The tests usually take about seven and a half hours with breaks.
4. Find Strong Recommendations
Along with acing your MCAT tests, you need strong recommendations. These can be individuals from your pre-med faculty or another facility you've had a chance to work with.
Also, ask for recommendations as early as possible, even before you begin your applications. This way, you can give them an easier time to write something compelling. It'd help if you also spoke to them to get their permission before you list them as references.
5. Write a Unique Personal Statement
Your personal statement should always be unique. So, you need to write a compelling essay indicating why you'd like to be a doctor. Give a clear picture of your personality apart from your classroom grades, as well as your personal experiences.
Try writing a few samples to see where you can polish your account of yourself. If you need more help making one, you can ask current medical students who have gone through the admission process for advice.
6. Apply as Early as You Can
Never put off the application for a later date. Otherwise, you'll lose your window.
Most medical schools require two steps for the initial application. First, you must provide your personal information, MCAT scores, letter(s) of recommendation, resume, personal statement, and transcripts. Second, you'll have to respond to an essay prompt. This only happens after the school has gone through your initial submissions and considered you a viable candidate.
You must understand the application timeline to submit all the requirements on time. So, be prompt as much as possible.
7. Rehearse for Your Medical School Interview
Once your applications have gone through, start practicing for the medical school interviews. Go through some typical questions the panel may ask you. Brush up on your resume and skills so that you have an easier time answering inquiries related to them. Also, keep up with the current trends in medicine today because they may be featured in some of them.
Ready To Take The Leap?
Getting into medical school is a multi-step procedure you must stay on top of to succeed. So, take all the time you need to prepare for each step. You can get help from students who have applied to medical school before and secured admission. They can share valuable insights into getting in significantly.
Here's to great openings for you.
Latest News