8 Benefits of Using WordPress Plugins That People Don't Know
By TOI Staff April 3, 2023 Update on : April 3, 2023
Are you scratching your head to know the deep benefits of using WordPress plugins? Never mind, your search ends here. In this blog, we are going to share 8 top benefits of WordPress plugins that people don't know most probably!
WordPress is a well-known system used for managing content. As it is an open-source platform, the flexibility to work with it is awesome. And the coolest part about it is the integration of WordPress plugins.
WordPress plugins are a good way to make your website stand out from the crowd as it offers so many added features. There is a huge variety of plugins (around 55k-60k) available in the WordPress repository. They are well suitable to make your website optimized, user-friendly, and extend functionality. And you can make all this possible with WordPress website maintenance services.
Apart from this, there is a long list of benefits of integrating WordPress plugins into your website. Let's dive in to know!
The Awesome Benefits of using WordPress Plugins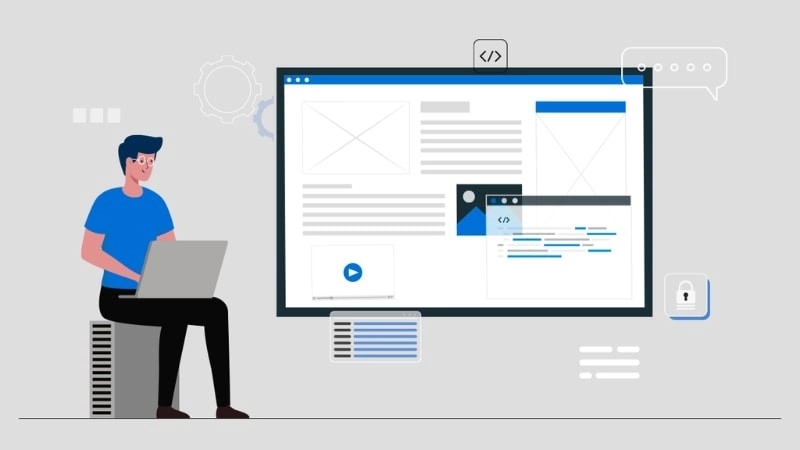 So, the biggest question here is 'why should you use WordPress plugins'? Here we are going to discuss some basic advantages of using plugins and I think this will help you to get the answer.
Have a good page loading speed
It is mandatory to have a smooth website to have a good user experience. It is the basic stone to building your business. A slow website can turn off visitors and act as a hurdle in the making of your online business.
But a good WordPress plugin can help you to have a good page loading speed. So, whenever any visitor will come to your website, you will get more engagement. After all, if any webpage takes over 3 seconds to load, you may lose around 50 percent of the site's traffic. That is the biggest reason to have a good page loading speed.
And in this scenario, having a good WordPress caching plugin to enhance page loading speed is a rescuer for you.
Beat the SEO race
You very well know this digital era is a competitive ground for search engine optimization (SEO). And it is not an easy task to beat your competitors.
Search engine optimization is a well-known marketing strategy to boost the visibility of your web platform. This automatically brings more and more traffic to your website. This ultimately assists you to fetch more sales.
But how a WP plugin can make this possible for you? There are many basic plugin features to do this possible, like:
It helps to optimize the content of the website.
It helps to optimize infographics.
You can well optimize the website's metadata.
You can build a good website structure.
This is why a good WordPress plugin development can help you to beat the SEO race.
GDPR Compliance is good for your website
General Data Protection Regulation (GDPR) is a term used for how you collect customers' data and information and store it. Also, it is legal to have a GDPR-compliant site to use the customer's data, especially in European Union states.
But what is the actual benefit for you to make your website GDPR-compliant? Here are some of its uses:
It helps you to gather only the needed information.
It basically helps you to get explicit consent from the customers to use their personal data.
This brings transparency between you and your customers as to how their data will be protected. You should make this privacy policy accessible on every webpage.
You can easily accomplish it with the suitable WP plugins available in the repository. And make your a strongly protected website.
Make a well-secured website
The two most important aspects to make your website secure are a good plugin and the host you choose. And here we are talking about WordPress plugins.
There are many options for security plugins available in the WordPress repository and wordpress.com. You can easily protect your website from malware attacks and security threats.
Making a well-secured website with WP plugins is one of the best benefits of incorporating them on your site. It is very much recommended to install any of the security plugins to make your website safe and secure.
Manage your time frame well
As WP plugins serve everything that your website needs, you can have a lot of time to focus on many other things. Or you can say it saves the major portion of the development time that your website needs.
For example, if you want to build a contact form for your website to easily get to your customers. And with any WordPress plugin like Contact Form 7, you can make this possible in minutes. Just you need to download and install it. And here you go with the required form.
Personalization becomes easy
You can easily customize your website as per your preferences. For example, you can use drag-and-drop page builder plugins to easily add blocks to your website wherever you want. You can also style it as per your need, you can add animation effects or hover effects, etc.
This all helps you to maintain the visual value of your website. And the most important part is, you can achieve all this will such simple effects. You can also be super flexible with the features you want on your site. And personalization obviously means a unique website.
Good use of social media buttons
In this digital competitive era, social media marketing is a nice way to make a shout-out for your web platform. With social media platforms, you can easily reach your target users to create awareness about your products or services.
Having social media following is a strong credibility base for your business. And if you have social media buttons incorporated correctly into your website, your users can easily use them. This way it is easy to promote your platform on platforms like Instagram, Facebook, Twitter, Pinterest, etc. This will definitely help you to enhance your conversion rate as potential users can easily contact you.
Offer a good customer support
Last but not least,
You can get good help and support from your customers. For example, with the help of an advanced search option with WP plugins, you can easily make it possible for users to reach you. And also you can direct your users in the right direction. It will help you to improve your overall experience.
Many advanced WP plugins help you to add features like multi-language customer support, auto-correcting tools, and many in-depth insights options. You can easily integrate such customer support features with WordPress plugins.
The Rub
Professional websites have got great add-on support in the name of WordPress plugins. No matter, whether you want to make your website secure, easily accessible, and fast-loading, WP plugins make it easy for you to achieve all this.
You can achieve maximum performance for your website that too with saving a lot of time and effort. So, these all are the top 8 benefits of using WordPress plugins that people don't know.
So, what are you waiting for? Integrate WP plugins into your site to get the maximum out of your dreamy business.
Latest News