Kiwis Discover 7 Great Benefits of E-Scooters
By TOI Staff   March 7, 2023   Update on : March 7, 2023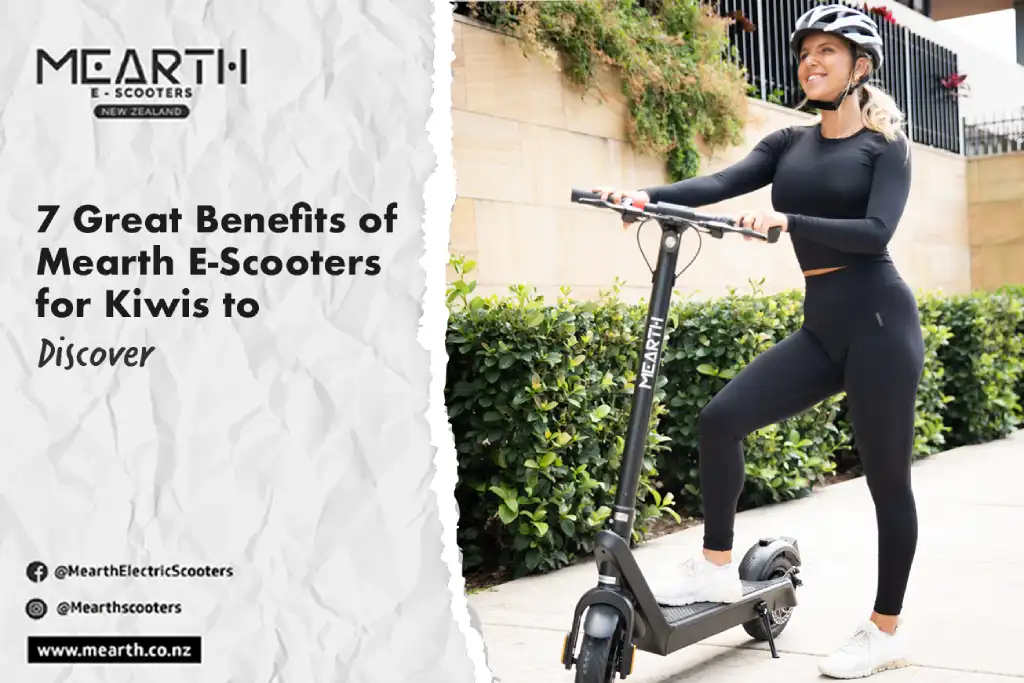 New Zealand, or Aotearoa means "land of the long white cloud" in English. Its estimated population is at 5,124,100 (2,542,800 are males and 2,581,200 are females). The median age of males and females was 37.0 and 39.1 years, respectively.
Recently, New Zealand became the picture-perfect backdrop of an amazing breakthrough and technological innovation. Mearth's high performing, top-tier, superior quality, electric scooters in different categories entered the kiwi market –specifically the entry level commuter e-scooter, the long range, the on-and-off-road heavy duty personal mobility devices, and the futuristic MEARTH CYBER electric scooter.
Often called e-scooter, these personal mobility devices have swiftly gained popularity, and as of today have jump-started an almost whirlwind renown, globally. From what was once a mere plaything for children and teens, today's rideables, in particular Mearth state-of-the-art electric scooters are used as an affordable, time-efficient alternative mode of transport by teens and adults. Likewise, students, office workers, business professionals too, can be seen riding to work looking so cool. So poised.
Mearth electric scooters, described as two-wheel vehicles are easy to use, affordable, and energy-efficient. They are actually a whole lot safer than personal cars. Next, imagine the big savings you get in the long run.
The question now is, do you need a reason to get an electric scooter? Alright! Let's give you more than one! Check out these undeniable benefits of electric scooters to help you make the right choice.
The electric scooter is friends with nature.
Minimize your carbon footprint with no effort. Since the e-scooter runs on batteries, no toxic fumes or residues are produced. With an electric scooter, you can contribute your quota in going green, minimizing pollution to the environment.
Savings in the bank is where it goes.
An E-scooter can save you money on your daily commute. The price of fuel continues to be on the rise globally. It is not equitable anymore to spend hundreds of hard-earned money on gas when you could hop on an electric scooter and go places, nice and easy. Since they work on batteries, these rideables like the Mearth RS long-range electric scooter can go up to 30 miles without charging, depending of course, road conditions, weather, and your weight.
Time-Saving – because every minute counts.
Lightweight, so it's easy to maneuver and navigate, the rider can easily avoid high-traffic areas and get past busy, overcrowded parking lots. Sleek, ultra-portable, and foldable, they make it easier and faster for you to get to your destination, no matter how busy the road is.
Convenience and portability spell efficiency
Compact in design, portability is one of the most significant advantages of the electric scooter, like the lightweight Mearth S Pro, weighing only 15kg. You can easily carry them around, or take to public transport or train. Later you can store it in the hallway, under the desk. It can easily fit inside the car trunk.
Affordability – no ouch there.
E-scooters cost significantly less than a car, motorcycle, or mountain bike. Plus, there's a low maintenance cost. If something breaks down, you can quickly get it replaced with available parts that can fit into your budget.
Innovative safety features assured.
Mearth's high-performing, superior quality, cutting-edge electric scooters are safe. This goes for all e e-scooters that feature electric brakes, brake lights, shock absorbers, dual brake systems, and more. Rigid and stringent standards have to be complied with and consistently followed to ensure foremostly the rider's safety and well-being.
Be as fit as you can get.
In case you are not yet aware, using a scooter can help you, if you're on the voluptuous side, to lose a few pounds and enjoy it. The upside of riding an electric scooter is that it can help you gain better balance, posture, and coordination. Now that's motivation enough – you feel good and energized throughout the day.
So…should you get an e-scooter? With the pros clearly evident, it's up to you to decide – but we know you wouldn't want to miss out on all the fun and freedom – and the good health too.
Mearth's powerful and future-ready electric scooters have arrived in 'the land of the long, white cloud' with the aim to spread happiness to riders in each and every city – from Auckland, to Wellington, and Rotorua, Christchurch, Dunedin, Hamilton, Napier-Hastings. Invercargill, Lower Hutt, Upper Hutt, Tauranga, Queenstown, Gisborne, Nelson, Whangarei, Porirua, Palmerston North, New Plymouth, up to Hibiscus Coast – because Earth believers that there are riders who look for the better alternative, truly safer rides, extended thrill and freedom – while mindful and responsible of New Zealand's basic road rules.
Latest News