Ten Movies Casino Fans Shouldn't Miss
By TOI Staff   February 10, 2023   Update on : February 10, 2023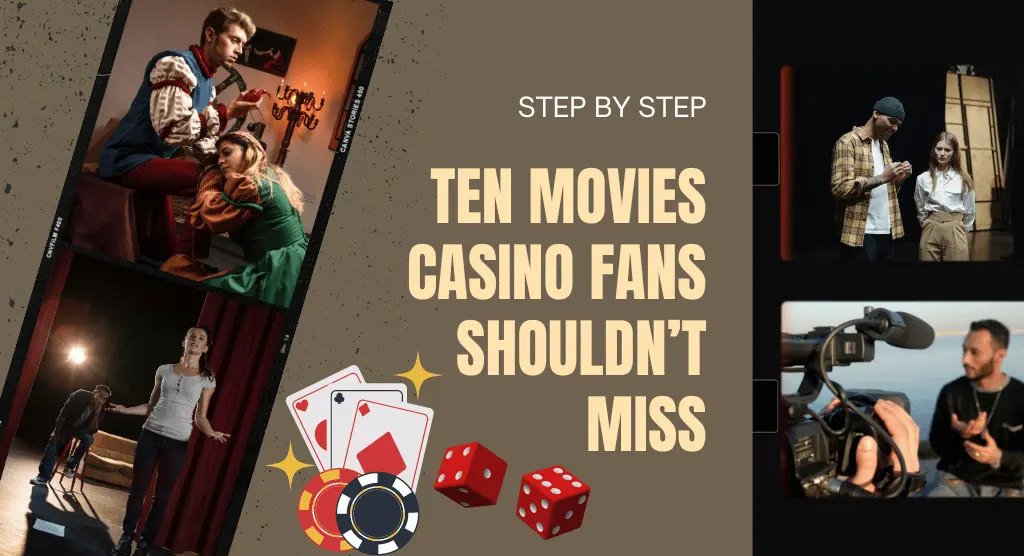 There are some backdrops and locations that are just too tempting for movie makers to ignore – and casinos are one of them. When you think about it, the reasons are pretty obvious. Firstly, by their very nature they're pretty glamorous places where the high rollers meet and mingle. Plus there's that other essential component of drama built in, namely conflict between competing players.
Then there's the opportunity to introduce complete 180 degree reversals in fortune. So a character can either be financially wiped out or made rich, all on the turn of a card or the spin of a roulette wheel.
So it's no big surprise that we had very little trouble indeed finding ten great movies in which casinos are major elements and integral to the action.
Ocean's Eleven
The 2001 remake of the famous rat pack movie was nothing if not star-studded with George Clooney, Brad Pitt, Julia Roberts and Matt Damon all on the cast list. Telling the story of a daring and ingenious casino heist it became an instant classic that not only took almost $450 million at the box office – it also spawned two equally successful sequels.
Rain Man
Barry Levinson's 1988 movie saw the unlikely pairing of Dustin Hoffman and a very young Tom Cruise in the ultimately heart warming story of a con-man and his trusting neurologically diverse brother. In the movie Hoffman's character, Raymond, has an uncanny knack of being able to count cards in games of blackjack which make the pair a fortune –  it also earned him the year's Best Actor Oscar.
21
Counting cards in blackjack is also the subject of this movie from 2008. It tells a fictionalised account of a true story in which math students from MIT, under the guidance of their professor played by Kevin Spacey, travel to Vegas to take the casinos to the cleaners. It did pretty well for the studio too, grossing almost $158 million from a $35 million budget.
The Sting
Featuring two of the most iconic Hollywood actors of all time, Paul Newman and Robert Redford pair up to devise the ultimate con scheme to outwit a powerful mob boss. Over the course of the movie, viewers can witness each character's intriguing personalities collide as stakes become higher and higher from the emotionally charged games of poker to it's climatic finale which is set in a cosy gambler's paradise just like any online casino you find.
Casino Royale
In his first outing as James Bond in 2006 Daniel Craig had the chance to reinvent the super spy for the noughties – and he certainly did that. In a heart-stopping poker scene he takes on an arch-enemy Le Chiffre in a high stakes poker game in which he literally has to recover from heart-failure caused by poisoning. Although not the highest grossing Bond movie ever, it did earn over £606 million for its makers.
Rounders
Matt Damon may have picked up some of the card skills he later deployed in Ocean's Eleven in this 1998 movie. In it he plays a poker hustler who is trying to help an indebted friend to ease themselves out of trouble. To do this he has to play a nerve-shredding series of games against a Russian opponent played by John Malkovich at his sinister and threatening best.
Fear and Loathing in Las Vegas
In the same year a very different casino movie was released. Directed with surreal genius by Monty Python's Terry Gilliam it attempted to film the almost unfilmable book by Hunter S. Thompson. It features a drug-ravaged road trip that ends up in Vegas. Critics were divided into two camps – those who loved it and others who absolutely loathed it.
Lucky Grandma
Proof that even the offbeat can make good use of casinos comes in this indy gem from 2019. It tells the story of an innocent Chinese grandma who gets caught up in all kinds of trouble after mistakenly picking up a bag full of cash following a casino visit. Even with a cast of unknowns it still manages to score a near-perfect 96% on Rotten Tomatoes
The Hangover
Maybe the makers should have stuck with the original instead of making two inferior sequels as this remains a classic Vegas-set movie. It's the bachelor weekend from hell for its participants – and hilarious from start to finish.
Casino
Martin Scorsese had a tough task on his hands when coming up with a follow-up to Goodfellas. But he managed it with style using many of the same cast and setting it in Vegas just as big business was pushing out the mob involvement. Made for around $45 million it grossed $116 million worldwide, and earned huge critical respect.
There are plenty more casino movies with production companies like Universal and Rossen Enterprises behind them, but none quite have the impact of this ten.
So why not put them on your "must see" viewing list right now?
Latest News