Which Watch do Professional Divers Use?
By TOI Staff   November 30, 2022   Update on : November 30, 2022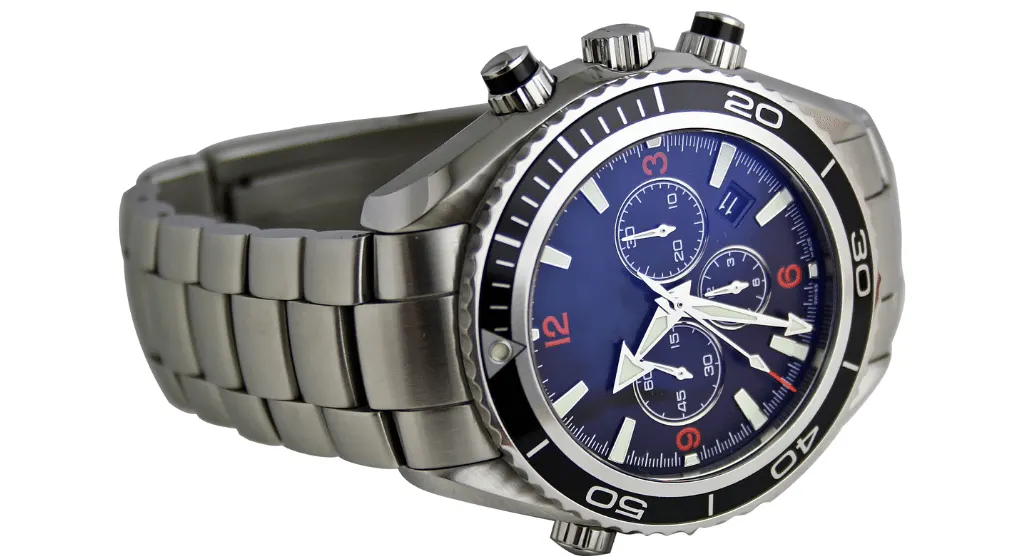 The original purpose of diving watches is no longer as significant to users as it once was. However, that doesn't make appreciating diving watches, as well as their brands, any less enjoyable. You'll discover some watch companies in this post that have become well-known for their diving timepieces.
Now, the likelihood of you spotting a smartwatch on the wrist of a scuba diver is practically zero because modern divers wear computers instead of mechanical timepieces.
That doesn't imply, however, that watch companies don't constantly upgrade their diving watches with the most recent materials and innovations. Let's learn more about some of the most recognizable names in the diving watch industry.
1. Omega
Omega is said to be one of the most popular as well as leading diving watch brands which was created by Omega Marine in the year 1932. Many divers choose to wear this when going deep underwater as it works efficiently underwater.
Even today, Omega continues to create valuable diving equipment for experts. The Omega PloProf, which was created in partnership with the renowned French diving business COMEX, is likely the most well-known of these.
It now serves as yet another symbol for the Swiss company. These 2 Seamaster models are just a few of the many that Omega has produced. The Omega Seamaster Diver 300M collections, often known as the "Bond" Seamaster, is the most well-known model in the Seamaster range today.
2. Tissot Seastar 1000 Powermatic
Perhaps its stunning beauty is how a sea star gained its name. One of the best dive watch purchases you can make is this one. The Seastar 1000 Powermatic boasts a striking look as well as excellent features. In addition to having a date window, it also includes three subdials. The casing is constructed out of 316L stainless steel.
However, the watch's ceramic unidirectional bezel prevents corrosion while also making the 180g watch weigh substantially less. Yes, considering that the Seastar utilizes steel straps and also has a wide length of 43mm, 180g is quite lightweight.
The movement is Swiss automatic, as well as the water resistance is 300 meters.
3. Delma Blue Shark III
For divers ready to make a wise investment, the redesigned Blue Shark by Delma model is the full package. Both the automatic movement's power source, as well as the dive watch's appearance have been improved.
Now, the dial is available in black, orange, as well as blue and features a bold orange hue that is also used on the bezel. Divers now have the option of choosing between brushed steel and steel with a black DLC coating, thanks to a revision of the unidirectional bezel.
The upgrade's increase in water resistance—to a stunning 4000 meters—may be its most striking aspect. This depth is unique to Blue Shark III and sets it apart from other diving watches, which offers it a significant competitive advantage.
4. Diving computers
These are worn on the wrist and are made by businesses like Shearwater and Aqualung. The former makes watches-like gadgets with Bluetooth connectivity, Windows and Mac software, a rechargeable battery, as well as several operating modes for when the person is diving.
Shearwater goes a step further by making wrist-worn gadgets with big, rectangular displays designed to show a lot of diving information at once.
These wearables, which feature a color screen, are designed for both new and seasoned divers who enjoy the sport. Air, Nitrox, 3 Gas Nitrox, as well as Gauge are the four modes of the decompression computer. You can check out Santa Barbara Aquatics and find yourself the most reliable computer watches at reasonable prices.
5. Deep Blue Nato Diver
This one has a timeless style. It is really attractive and has beautifully legible labeling on the bezel. In comparison to similar items made of steel and other metals, it uses a NATO strap, which reduces its overall weight.
A NATO strap is one of the greatest dive watch straps available right now. The 44mm casing diameter gives it the appearance of being rather large. To create a durable dive watch, the case was bent out of high-quality 316L stainless steel. The same material is also used to make the bezel.
The Deep Blue Nato Diver is packed with features, including a crown for motion control as well as a helium escape valve to keep the watch safe in the event of deep diving.
6. Casio G-Shock DW9052
Hardy, economical, as well as dependable, are all adjectives that perfectly define Casio's G-Shock DW9052, which is arguably the best affordable dive watch on the market.
A watch like this used to come as standard equipment for divers at the Naval Diving as well as Salvage Training Center in Panama City Beach, Florida, along with their fins, masks, as well as blades.
The DW9052, which is practically unbreakable and is used by everybody from US Navy SEALs through Home Depot dads, performs everything it requires to do for underwater time telling, has a simple stopwatch feature, and is ideal for both militaries as well as recreational divers.
7. Delma Cayman
The Cayman Automatic dive watch from Delma could very well live up to its promise of "a strong watch with zero fluff." In addition to possessing a highly coveted Swiss automatic movement, this timepiece with a 1970s aesthetic is unique in that it is completely water-resistant to a depth of 500 meters.
The watch has a mesh bracelet as well as a gorgeous stainless steel bezel, both of which appear elegant and posh on the wrist.
Cayman features a unidirectional aluminum diving bezel with silver numbers at the hours of 15, 30, and 45, as well as a luminous dot at the twelve o'clock position, in keeping with the idea of sports watches. The bezel's ring has a scalloped form for excellent grip.
8. Vostok Amphibia
The Vostok Amphibia is a cult classic that is well-known and adored by throngs of price-conscious diver's watch fans. The Russian made Vostok, which uses an in-house movement and retails for far less than $100, is the focus of a vibrant aftermarket modification industry and is available in hundreds of various cases as well as dial configurations.
The Amphibia, popularly worn by Bill Murray in the Steve Zissou and hipster-favorite movie The Life Aquatic, is the most affordable real automatic diver's watch you can easily buy.
Conclusion
I hope this will articles helpful to you in finding the diving watches that various professional divers use. Most of the ones I've mentioned are reliable as well as affordable watches that anyone can easily find and purchase.
Latest News