10 Tips for Better Parenting
By MD Imran Ali   September 20, 2022   Update on : November 20, 2022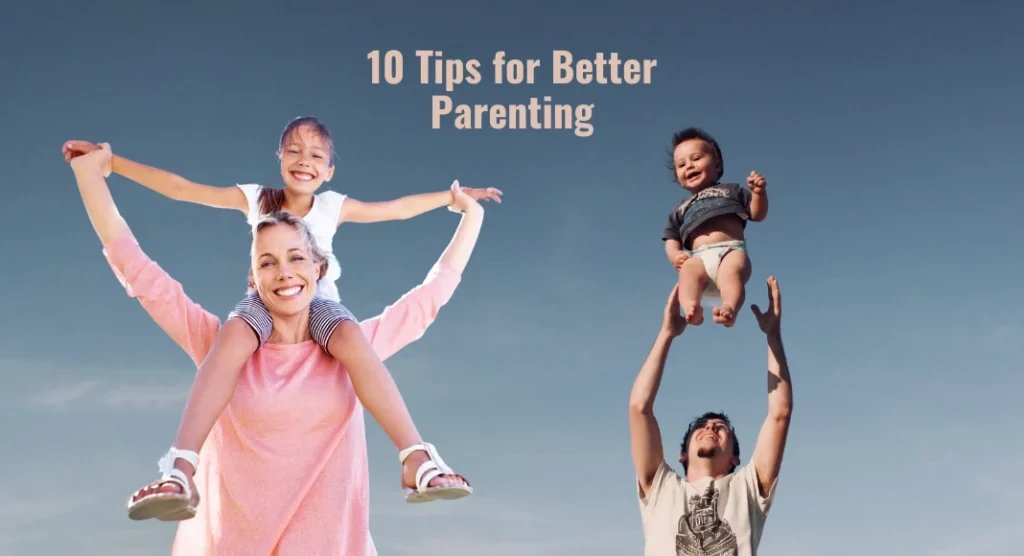 Parenting is a very challenging task, a lifelong process to maintain by the parents. Parents need to be very careful with their kids until they become adults. Family is the most precious and significant part of a person. You must be very active and calculative while caring for your children. Only giving birth to a baby does not mean that you are a parent. Giving birth to a kid means you are giving birth to a sense of responsibility for that kid. Raising kids in a good atmosphere ensures his/her basic rights and a better future.
You must give enough time to your children for their betterment. You should not run after money as money can't buy happiness. Giving enough time and taking a bit of extra care can be a far better solution than earning more considering the context of good parenting. Don't forget that a mother or father is the first teacher for a kid. The foundation of your kid's knowledge, civic sense, courtesy, generosity, and intelligence depends on your dedication and willpower.
As you sow so you reap. Invest your time, energy, and money for the betterment of your children you will get a far better return in the future. You need to ensure your kids that you are the person whom they can trust the most. Be a true guide to them. Help them think creatively and know the newer things about life. Your guidance helps to prevent your child from being derailed. Let's see
Some common tips parents should follow for better parenting.
Give time to your kids:
An adult has so many things to do and many people to meet every day but a child has his/her world with some limited tasks and few people. As a parent, you must give enough time to your kids so they feel that they are not alone. Loneliness leads a child to uncertainty. Many parents find it the most beautiful time if they can pass time with their kids. If you are a working mom or dad, you can arrange a special night at every weekend.
Be a good teacher:
You are the first and the best teacher for your children. You need to guide him/her to a secure life. Be a role model to your kids. Young children learn a lot from their parents. Sometimes kids start following their parents subconsciously. So you should do good things in front of your kids and avoid bad habits to teach them what is right and what is wrong. You are continuously being watched by your kids so you can't blame him/her for any misdeed that you did earlier. You must rectify your mistakes immediately so that he/she can learn from you.
Love your kids unconditionally:
Parents' love for their children must be unconditional. Make sure your kids feel that your love is unconditional and natural. You should express your love to your kids so that they would understand and reciprocate it in the same manner. A mother's or father's ample love for her/his child is inestimable.
Support your child:
A parent must support his/her child for building their confidence. Your support and care will help your child to develop the social and emotional skills they need to lead a happy, healthy and prosperous life. Your child should get enough support when he or she is in anxiety, stress, or depression.
Don't compare your child with other kids:
Don't compare your child with the other kids of his/her age or class. You must keep in mind that every child is different. Parents often do this mistake. They compare their children with others which gives a very low feeling to the kids.
Teach discipline:
A disciplined life is well-desired and loved by all. As parents, you have a vital role to play to teach your kids discipline, time management, and so on. Try to maintain a disciplined routine that will be adopted by your kids. Family is the best place to learn discipline and manners.
Talk more to your kids:
You should have enough talk to your kids every day so that he or they can express their feelings about you. They will tell you about the problems and challenges they are facing. You need to create the scope of talking freely with yourself.
Be friendly with your kids:
Those kids are lucky whose parents behave like friends with them. Parents and children should develop a very friendly relationship for happy family life. Such relation will help to develop a better understanding between you and your kid. Don't act as if you are his/her boss or ruler. You must give some space to them for a healthy relationship.
Stop blaming or cursing your kids:
Some so many people blame or curse their kids for their failures in life. It is very harmful and an example of bad parenting. It can affect the mental health of a child very badly. You should appreciate your kids. But, you should support your kids instead of blaming them for a bad time. Your motivation can help them achieve the ultimate goal.
Go out to play with your kids:
You need to be double active to make your kids super active. You should go out and try several physical activities such as playing football, cricket, baseball, badminton and so on. This will help your kids to know about the real world and be active and fit. Playing with your kids will keep them mentally sound.
Latest News