SFlix App: How to Download, and is It Worth Your Time?
By TOI Staff   February 18, 2023   Update on : February 18, 2023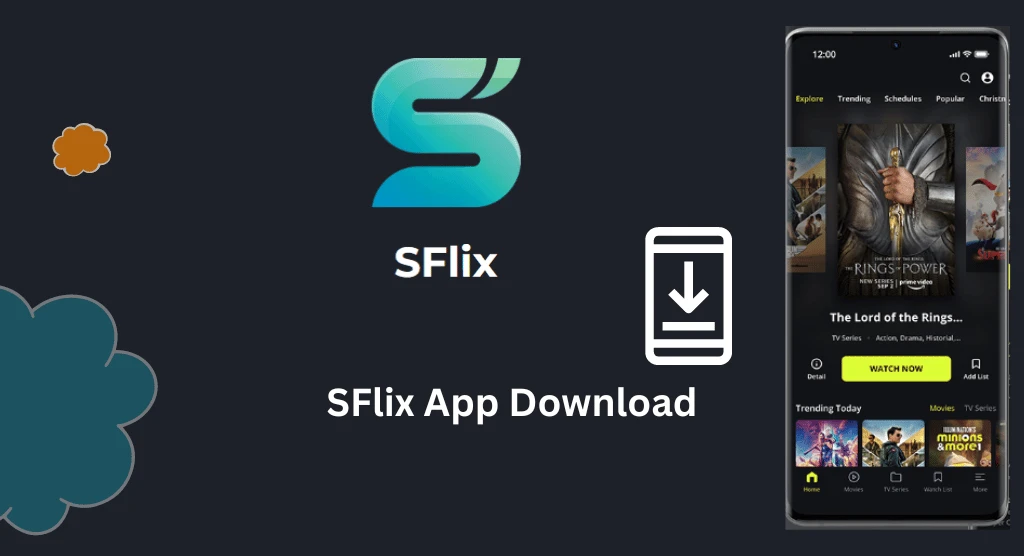 SFlix is a well-known free movie website where you can stream or download movies and dramas for free. On this website, you can find Hollywood, Chinese, Korean, Japanese, and Indian movies and dramas.
Here you can watch vintage movies released decades ago to the latest movies released a week or two before. Overall, this website is a great place for any movie fan who wants to enjoy their favourite content for free.
In this article, we will discuss the SFlix app, its advantages, and its disadvantages.
What is the SFlix App?
The SFlix app is the app version of the SFlix website. It is completely free to download; its features are as follows:
Both Quality and Quantity
The SFlix app can provide you with information about thousands of hit movies and TV serials from all around the world. Aside from already available content, new movies and dramas are constantly added to the website. Most of these new additions are the latest top movies from various countries; you can usually find them on the app soon after their release. It also has movies suitable for all age groups. You can find movies for children, adults and older people; anyone can find something they like here.
Descriptions
The SFlix app provides a small description for each movie or drama; you can use that description to decide whether you like a movie.
Easy Navigation
This app makes it incredibly easy to navigate; even first-time users can easily find their way around it. It provides many ways to find what you want; you can search movies by genre, country, release date, language etc. And if you know the movie's name, you can find it directly with the help of the search bar.
No Registration
The SFlix app needs no account registration and login; you can still use all its features without them. All you need to do is to download and install the app, and nothing after that, no registration and no subscription.
Comment and Rate
While browsing through movies and dramas on this app, you can leave comments and ratings on the ones you like or dislike. If you like a movie, you can give it a high rating and a positive comment; if you don't like it, you can leave it a low rating and a negative comment. With this, you can tell other users whether a certain movie is worth their time; this will make you feel a sense of community and engagement.
How to download the SFlix app?
SFlix app is available on the Google play store and apple app store, so both Android users and iPhone users can download it without a hassle.
Open the play store if you are an android phone user, or open the app store if you are an iPhone user.
Search for 'SFlix' in the apps.
Browse through the results and find the SFlix app; usually, you will be able to see it in the first place.
Install it on your phone, and enjoy.
Another way to download Sfllix App: At first search on Google "Sfllix" or "Sfllix App" then visit the official website of Sfllix. 

Secondly, After visiting the official website then go to the bottom of the website. You will see the "Android App" option and click on it then open a new page "SFlix Android Movies Apk". Now click on "Download for Android" and install it on your mobile phone and enjoy watching your desired movies.
Watch also more the latest movies from GoMovies and easily download GoMovies App.
Is the SFlix app suitable for you?
The SFlix app you find on the Android play store and Apple app store can't allow you to stream or download movies. They just provide you with a list of movies and their information, such as their ratings, comments etc. If you want to use this app to find the names of the movies you want to watch and then watch them in the Cinema or somewhere else, then you can use it.
If you want to stream and download movies for free, this app is not for you; SFlix official website is a better choice.
Is the SFlix app legal?
Yes! The SFlix app you find on the Android play store and Apple app is perfectly legal. It is only an informational app that lists top movies and provides simple descriptions for the ease of its users. It doesn't show copyrighted content or involve any sort of piracy.
IS the SFlix app safe?
Yes! SFlix app from the Android play store or Apple app is as safe as any other app you find on these platforms. Both Google and Apple do thorough inspections on every app before they allow it to appear on their platform, so the chances of any problem are very small.
Is the SFlix app only available on Android Play Store and Apple App store?
No! This app is also available on the SFlix website, and this version has more features; it can also allow you to stream and download movies. You can use this version of the app is perfect for those who want to watch movies for free. But the disadvantage of this version is that it is both illegal and unsafe. Illegal because it allows you to download and stream pirated content, and dangerous because it is an app you downloaded from a pirated website.
Frequently Asked Questions
Why can't you stream and download movies on the SFlix app?
The SFlix app you download from the play store or app store doesn't allow you to stream or download movies; there is a good reason for that. It doesn't have the permission of copyright holders, so if it allows you to stream and download movies and dramas, then that is considered piracy. This would make this app an illegal app and have no place on the play store or app store. These two platforms are very strict about their apps; if they find any illegal or harmful components in an app, they will remove them instantly.
Can you buy movie tickets through the SFlix app?
Yes! You can book tickets for your favorite movies through the SFlix app. This app provides you with an extensive list of movies alongside their brief descriptions; you can use various tools available to search for the movie that suits your taste. If you want to watch that movie in Cinema, press the 'watch' button on the app. It will help you find the cinemas that will play that movie in the short term. You can browse through them and book a ticket to the Cinema you like.
Conclusion
There are two types of SFlix apps, one you find on the play store and app store, and the other you find on the SFlix website. Both have their advantages and disadvantages, and both are suitable for different situations. But we think you shouldn't download and install the app from the SFlix website because it's not worth it.
Downloading apps from a pirated website is asking for trouble, and there is no particular need for it either when you have a much safer alternative. Both the SFlix website and the app you get from that website have the same content, and both allow you to stream and download, but the website is much safe than the app, so if you choose between the two, the choice is obvious.
Latest News