17 Traditional American Clothing of All Time
By TOI Team November 21, 2023 Update on : November 21, 2023
Have you ever pondered how America's history and culture were influenced by its clothing? Traditional American attire is like a time machine that transports us to different eras and regions of the country. This article will go into the interesting realm of clothes that narrates the history and culture of America.
We'll examine the links that bind the history of our country, from Native American garb to the classic cowboy outfit. Let's enter the realm of traditional American clothing and learn the secrets that are concealed in the fabrics and stitching.
The Definition of Traditional Clothing
Traditional American dress includes the outfits that different ethnic groups have worn. These outfits span for decades all around the country. It displays the rich past of the country. They range from the traditional cowboy boots and Stetson hats of the Wild West to Native American clothing.
Traditional clothing in America communicates a story. It shows evidence in the colorful garb worn by Mexican-Americans. You can also see it in the intricate quilts created by Amish communities, to name just two examples. It is a tale of various cultures and their contributions to the nation's rich tapestry. The unique history of America's different communities is preserved by these clothing styles. They are more than just pieces of fabric.
Brief History of Traditional American Clothing
The fascinating history of traditional American attire illustrates the development of the country. It also shows its exposure to various cultural influences. Native American tribes were among the first to dress traditionally. They made garments that matched their climates and way of life out of animal hides and other natural materials.
Styles started to change as European settlers arrived. People in Colonial America wore clothing that was influenced by the vogue trends in Europe at the time. These clothing include bonnets, petticoats, and waistcoats. Clothing trends changed as the country moved westward. The cowboy look, complete with boots, hats, and denim, first appeared in the 19th century.
Significant cultural shifts occurred during the 20th century. As a result, fashion trends reflected these changes. Each period left its imprint, from the flapper costumes of the Roaring Twenties to the "Greaser" fashion of the post-World War II era.
Traditional American clothing is continuously changing today. It now embraces a variety of cultural influences and current styles while still keeping the rich history woven into each seam and stitch.
17 Traditional American Clothing
Over many years, American attire has undergone significant alteration. It has been affected by many cultures, significant occasions, and what people wore in various regions of the nation. We'll examine the various clothing categories playing significant roles throughout American history.
1. Cowboy Hats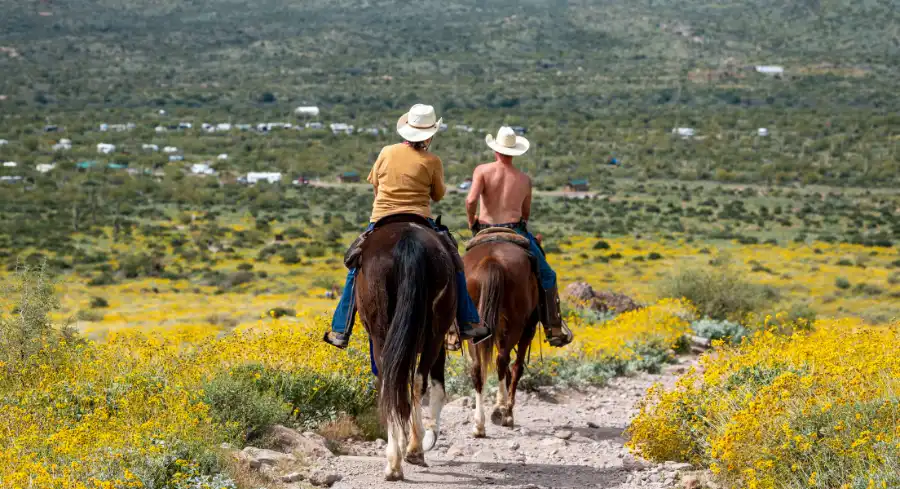 Cowboy hats are a representation of the American West's toughness and pioneering spirit. These hats with wide brims, which are frequently made of felt or straw, shield the wearer from the sun and the weather. The unique creased crowns and curved brims of cowboy hats, which differ in style from region to region, are what make them so recognizable.
A cowboy hat is a classic piece of clothing that oozes vintage Americana. You need it whether you're a rancher laboring on the wide open range or just want to add a dash of Western flair to your ensemble.
2. Cowboy Boots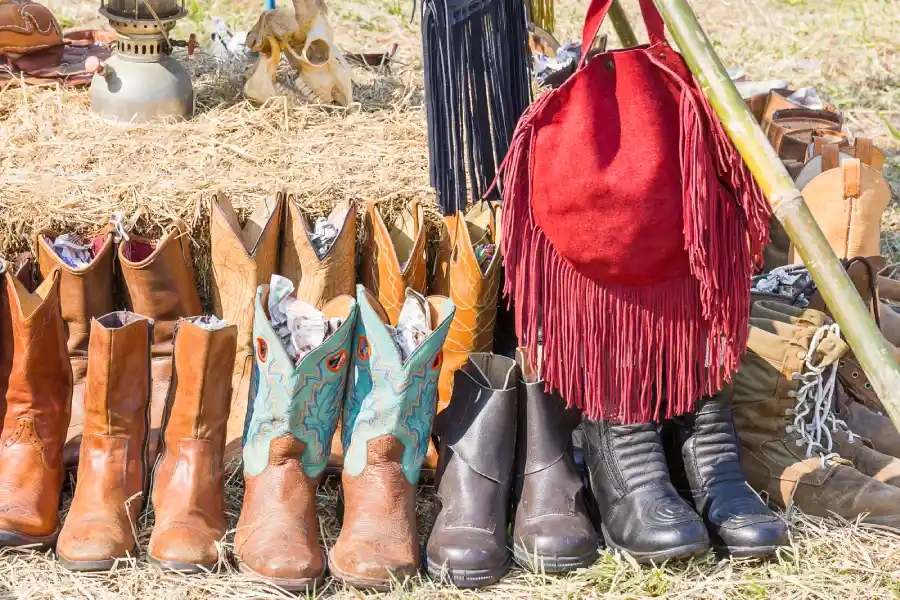 Cowboy boots are more than simply shoes; they represent a way of life that honors the customs of the American West. These boots have delicate stitching, high heels, and pointy toes and were made with durability in mind.
Cowboy boots were initially made for riding horses. They have evolved from their functional origins to become an essential piece of clothing. These boots are a representation of tough elegance, whether you're two-stepping at a country dance.
3. Costume Chaps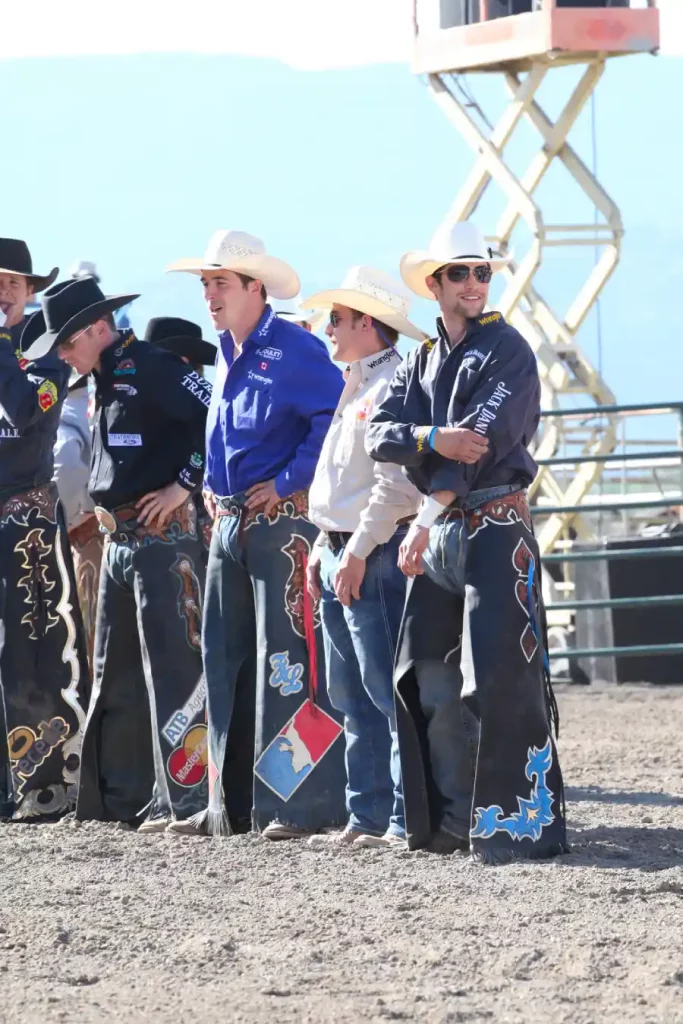 Costume chaps, commonly referred to as "chaps," are a throwback to the cowboy and rancher garb. They were popular in 19th-century American Western culture. Their original purpose was to provide protection. They provide protection from dangers during ranch operations and livestock drives. Over time, chaps accumulated decorative elements like fringes, conchos, and leather tooling.
Chaps are a symbol of the American cowboy's tenacity and diligence as well as the ongoing influence of Western culture. They are still used today in rodeos. They are also used in Western-themed performances preserving the Western culture.
4. Blue Jeans
Blue jeans are a classic piece of clothing that go with every season and generation. These tough denim pants have earned a reputation for casual comfort and adaptability. Blue jeans are a classic option for everyday wear, whether you favor the traditional straight cut or the most recent skinny fit.
They are appropriate for a variety of settings and personal styles because they may be dressed up with a jacket or worn down with a basic T-shirt. The timeless attraction of apparel that is both functional and stylish is demonstrated by blue jeans.
5. White T shirt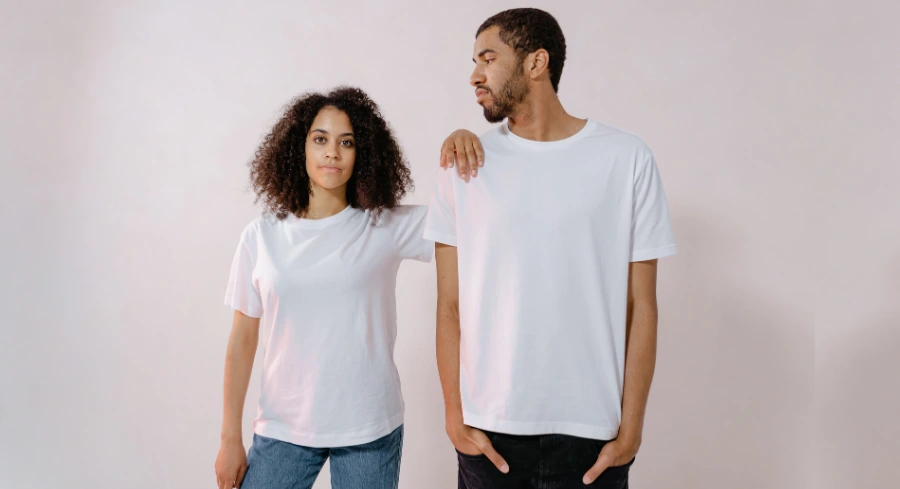 The definition of simplicity and style is the white T-shirt. With its simple design and unassuming hue, this modest clothing serves as a blank canvas for individual creativity. The white T-shirt is a versatile piece of apparel that goes well with almost any ensemble, whether you wear it alone or as an undershirt.
It has become a fashion symbol and is worn by everyone. They range from Hollywood stars to street style lovers because of its understated elegance.
6. Denim Jacket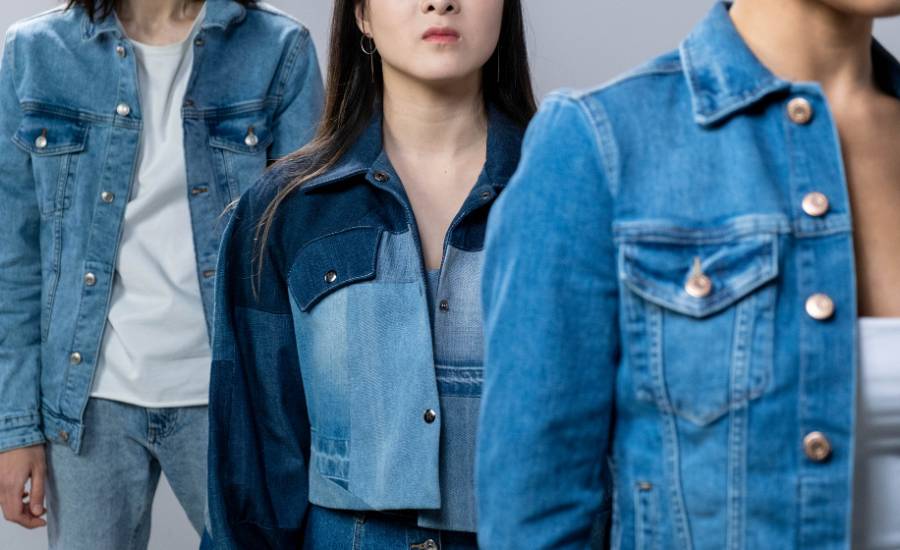 An lasting representation of American fashion is the denim jacket. Its origins can be found in 19th-century workwear. It has subsequently developed into a fashionable and functional outer layer.
Denim jackets are available in a variety of hues and cuts, from fitting and cropped to distressed and oversized. They can be worn under dresses, with jeans for the classic denim-on-denim effect, or to give a casually stylish element to any outfit. The versatility and classic appeal of the denim jacket make it an essential piece for every wardrobe.
7. Converse Sneakers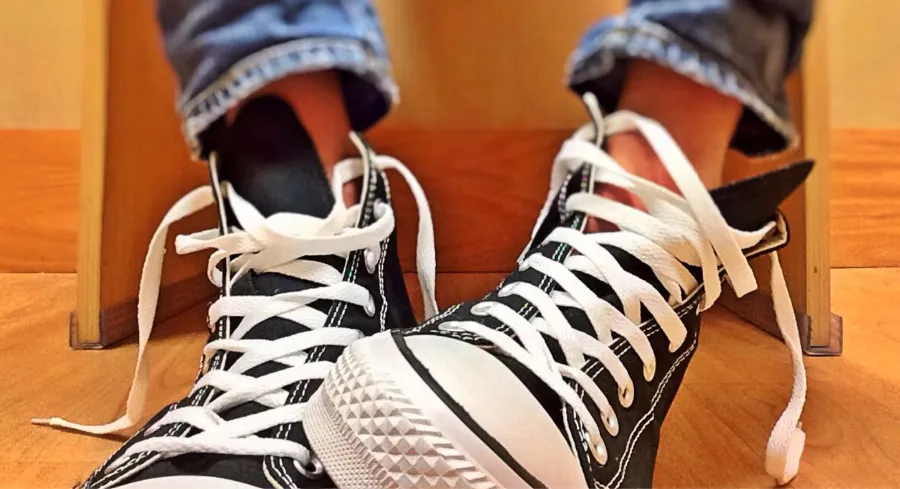 Converse sneakers, also referred to as "Chucks," have been linked to coolness. They have also been linked to counterculture since the early 20th century.
The white toe cap and unmistakable star emblem on these canvas and rubber sneakers give them their classic simplicity. Converse sneakers have gained popularity among musicians, artists, and rebels. It makes them a representation of self-expression and defiance. Converse sneakers offer comfort and style with a side of cultural history, whether you're a punk rocker or a street-style fan.
8. Moccasins
For many years, moccasins have stood for ease of wear and fashionable dressing. Leather, suede, and even fabric are used to create these plush slip-on shoes. Moccasins are well-known for being flexible and simple to wear. It makes them a popular option for outdoor and informal activities. Moccasins are a versatile and comfortable footwear option.
You can wear it for a variety of activities, such as wandering through a forest, relaxing at home, or going to a cultural event.
9. Flannel shirts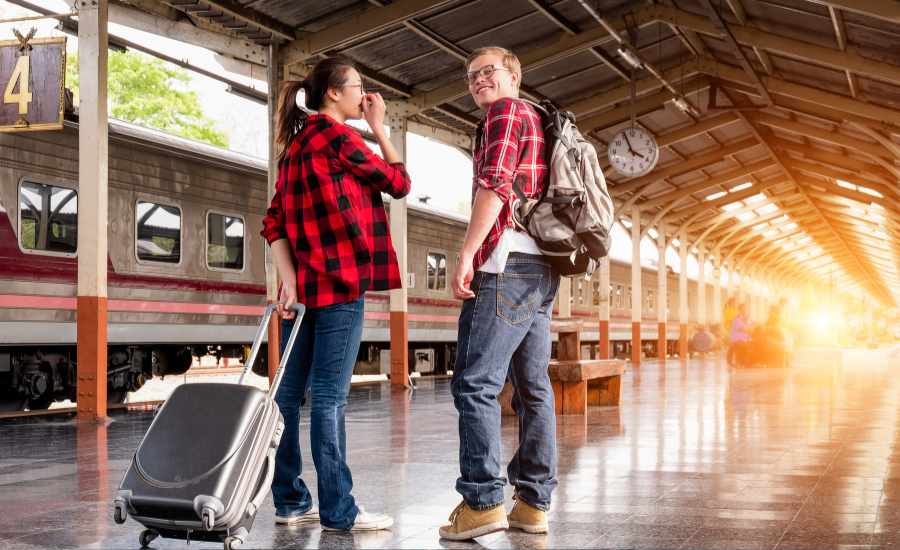 Shirts made of flannel are a traditional choice for the fall. Flannel shirts, which are made of soft, woven cloth, offer warmth and comfort during cooler months. Their recognizable plaid designs are available in a variety of hues. It makes them appropriate for both casual and tough outdoor wear.
Flannel shirts are a go-to option for a classic and attractive style. It includes whether you're cutting wood in the wilderness or drinking hot cider by the hearth.
10. Cowichan Sweaters
Cowichan sweaters are a display of an artistic brilliance and extensive cultural legacy. It is a legacy of the Coast Salish people of British Columbia, Canada.
These intricately designed, thick wool sweaters that are handmade are well known for their great warmth. Cowichan sweaters are now widely worn as a fashion statement. It combines history and modernity, transcending their ethnic origins. A Cowichan sweater is a celebration of tradition and craftsmanship in addition to keeping you warm.
11. Poncho Robe
A flexible outfit that effortlessly mixes comfort and flair is the poncho robe. Its flowy, relaxed fit and soft fabric make it ideal for relaxing around the home or using as a stylish beach cover-up. Poncho robes allow you to display your individual style while being comfortable.
It is because they are available in a variety of colors and designs. They are an absolute must for those times when unwinding is the first priority in your casual attire.
12. Huipils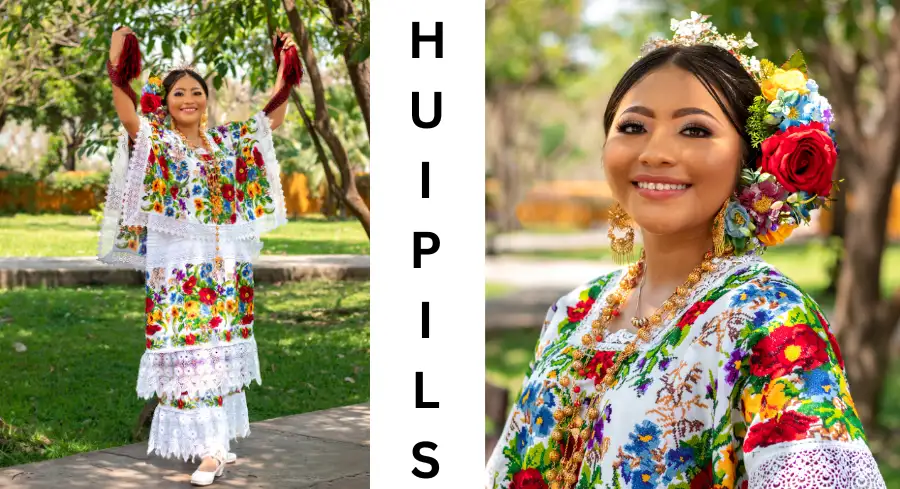 Indigenous women in Central America typically don blouses known as huipils. This is especially in Guatemala and Mexico. These outfits are elaborate works of art rather than merely articles of clothing. Huipils are distinguished by their vibrant hues, elaborate needlework, and significant motifs. They frequently express the wearer's ethnic identity.
Huipils have become recognized on a global scale in recent years as emblems of artistry and cultural diversity. They cross frontiers and find a home in the world of fashion.
13. Bandanna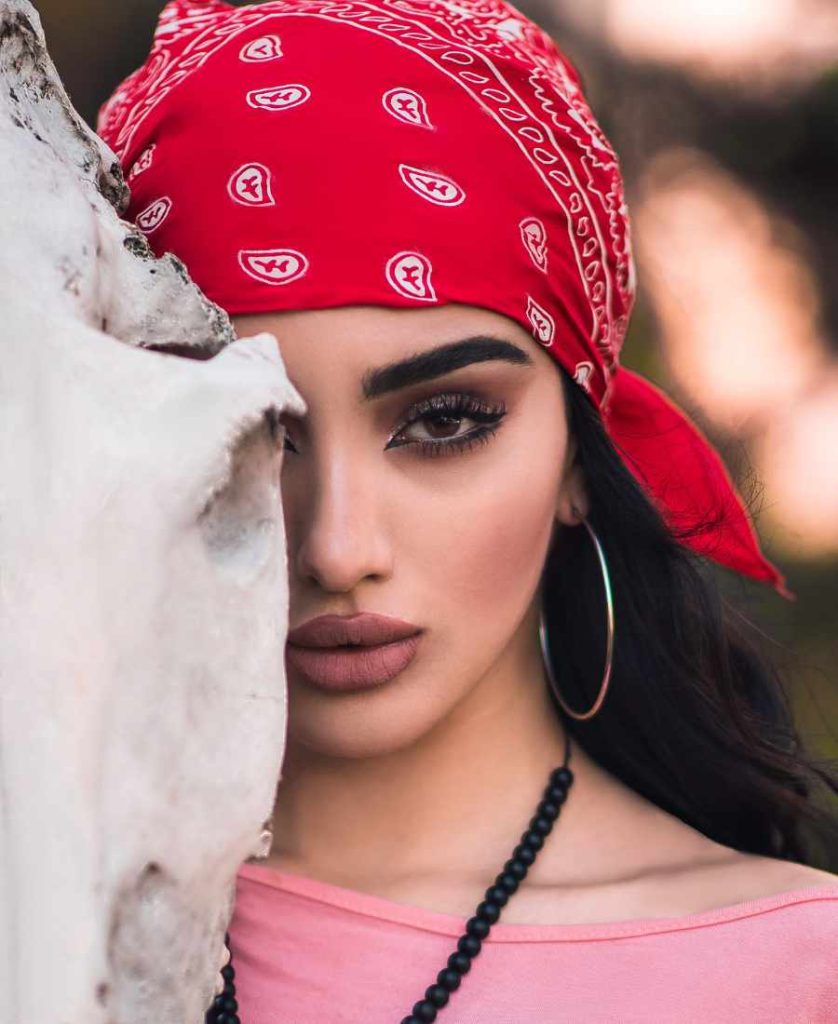 Bandanas are modest but effective accessories that can spruce up any look and serve a practical purpose. These square pieces of fabric can be used as fashionable face masks, neck scarves, or headbands. Bandanas come in a variety of hues and designs, making them a flexible option for both practical use and self-expression.
A bandanna can be the ideal final touch to your outfit, whether you're trying to create a fashion statement or shield yourself from the weather.
14. Khakis
A cornerstone of any wardrobe, khakis are the ideal blend of casual and smart-casual clothing. These functional pants often come in khaki and beige hues and are constructed from cotton twill, hence the name.
Khakis are casual enough to be worn every day, even though they can be dressed up with a white shirt and loafers for a more polished appearance. They are a go-to option for a variety of events, from informal outings to semi-formal ones, because of their versatility.
15. Custom Patches
A unique approach to give your clothing and accessories a touch of you is with custom patches. Custom patches give you a stylish way to display your interests. They also provide a means to remember significant occasions, or express your individuality. They can be ironed or sewed onto hats, purses, jackets, and other items.
Custom patches are a common option for people who wish to stand out in a crowd because they are a symbol of uniqueness and self-expression.
16. Baseball Caps
Baseball caps have evolved beyond their sporting roots to make unique fashion statements. These hats are useful for protecting your eyes from the sun. They are also adaptable accessories that go with a variety of outfits thanks to their curved brims and adjustable straps.
Baseball caps are still a common choice for people who want to add a sporty, laid-back vibe to their look.
17. Soccer Jersey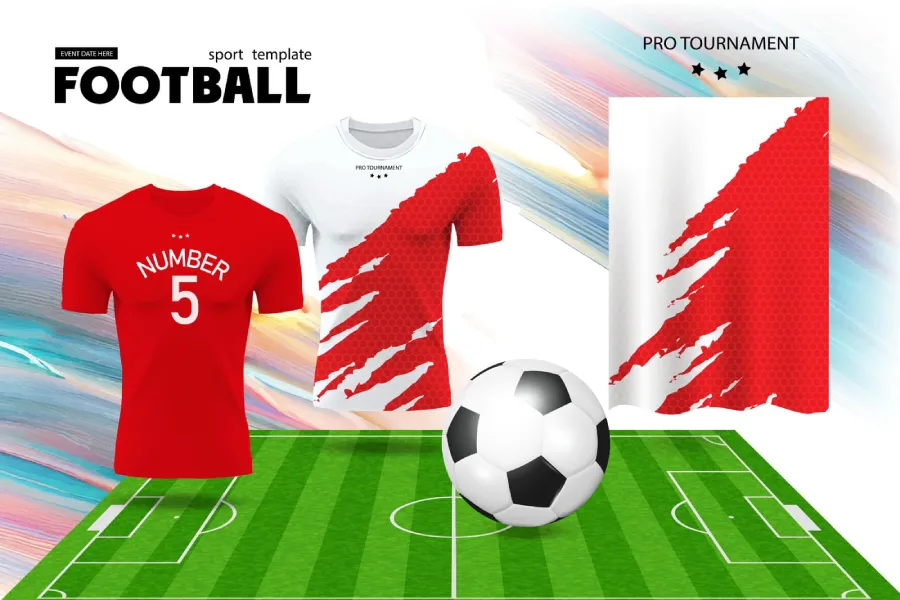 Soccer shirts are more than just pieces of athletic apparel; they represent fervor and fanaticism. Wearing a soccer shirt is a way to engage with the community of supporters. This is whether you're cheering on your preferred side or just appreciating the sport's universal appeal.
These jerseys allow you to exhibit your commitment with pride. They prominently showcase the team's colors, logos, and player names. Soccer uniforms are a symbol of the ability of sports to unite people and promote a sense of community.
Modern-Day American Clothing
American apparel now represents a wide and dynamic fashion scene. American fashion draws inspiration from its rich history. It also draws inspiration from external influences in a melting pot of cultures and fashions. Denim jeans, t-shirts, and sneakers are mainstays in most wardrobes, and casual comfort is king.
Activewear easily transitions from the gym to daily life. It is thanks to athleisure, which combines function and fashion. There has been a shift toward eco-friendly materials and responsible manufacture. It is a result of the increasing significance of sustainability and ethical fashion practices.
Inclusion is currently celebrated in American fashion. It includes various body types, genders, and expressions. Modern American fashion is a dynamic tapestry of innovation, comfort, and diversity that serves as a mirror of society's values.
Influence of Other Cultures on American Clothing
The impact of other cultures on American clothing is intrinsically related to the nation's sense of fashion. The United States has assimilated a wide variety of cultural customs over the years, creating a colorful tapestry of clothing. Moccasins and fringe were first introduced by Native American artistry. Bright designs and textiles were made possible by African history.
Immigrants from Europe influenced formal attire by bringing exquisite lacework and tailored suits. Asian aesthetics introduced delicate silks and simple designs. They had an impact on both informal and formal clothing. The vibrant colors and patterns of Latin America also influenced American fashion.
Modern American fashion may be considered as a fusion of these foreign influences and a celebration of variety. Because of this eclectic mix, American design is always evolving. It reflects the nation's unique history and readiness to adopt novel ideas.
Conclusion
Traditional American clothing is a fascinating journey through history and culture. It is a result of the varied influences that have shaped the fashion landscape in the nation.
These dress trends reflect the rich cultural diversity of America. American fashion has changed over time as a result of influences from several cultures. It has also changed as a result of geographical areas, and noteworthy events.
Read more

: 17 Traditional American Clothing of All Time
Latest News