7 Tips to Stay Fit as You Age
By Imran Ali   December 5, 2022   Update on : December 5, 2022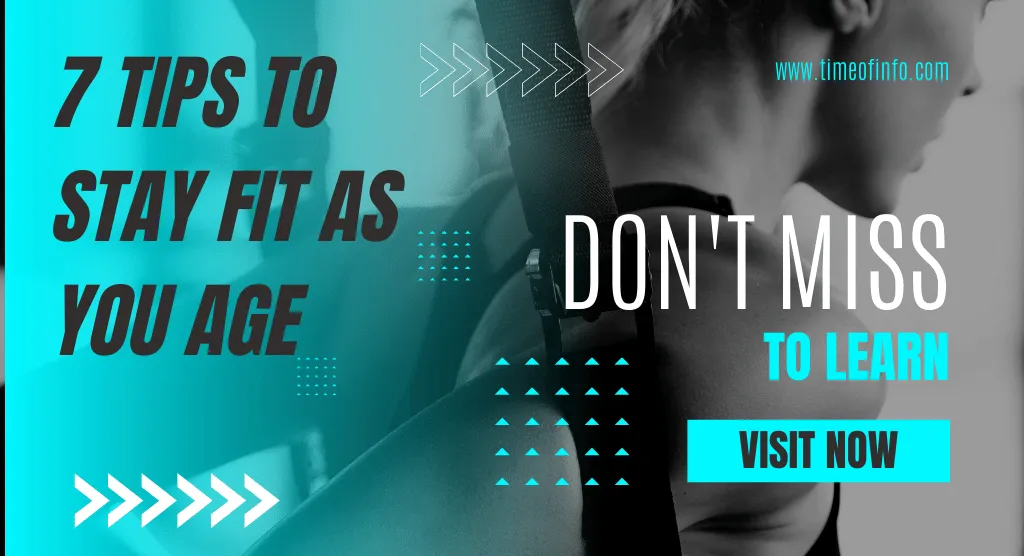 Getting older is a very natural process. Time passes very quickly and we get older day by day. Many people are health conscious and age is just a number for them. However, some people are reluctant to take care of their skin, hair, teeth, and health. One's lifestyle is mainly blamed for being sick and premature aging. The aging should come to you gracefully. You should be physically and mentally fit. You must enjoy your life and take very good care of yourself. You should not take too much pressure as it can lead to a hectic life which can impact your health severely. Some magical tips can help you stay fit even in old age. Let's see the tips.
Eat healthily:
You must eat healthy foods to stay fit and flexible all the time. Some easy guidelines such as avoiding sugar, having fruits and fresh juice, drinking plenty of water, avoiding junk foods, etc. can give you a healthy life in your old age. Your food habit can keep you young for a long. You should make a chart of a balanced diet to maintain a sober food habit. Nutrition and vitamins are very important for aged people. Healthy foods give us strength and increase our immunity to fight against any virus and disease.
Do exercise:
People of all ages should do some physical exercise to stay fit. You will get many benefits from doing physical exercise regularly. You will get a flexible body and a healthy mind. Moreover, regular physical exercise keeps heart disease, high blood pressure, diabetes, and fatigue away. Blood circulation gets smoother if one does exercise regularly. It is not mandatory to go to the gym and lift heavy weights. You can do jogging, swimming, cycling, walking and so on to stay fit.
Quit smoking, and alcohol:
Smoking and drinking alcohol both are very injurious to health. Many people suffer from heart disease, high blood pressure, respiratory problems, fatty liver, high cholesterol, and other problems due to smoking and drinking alcohol in middle age or old age. Such bad habits bring no good except suffering. It costs a lot of money to buy cigars and alcohol. It is wise to quit smoking and drinking alcohol as soon as possible.
Sleep well:
An adult should have a sound sleep for eight hours a day. Sleeping works as a medicine for aged people. It is very important to sleep well to get rid of many physical and mental problems. Go to the bed early and have a sound sleep every day. Good sleep reduces stress and improves your mood. You can stay at a healthy weight and get rid of many health problems if you sleep well.
Prioritize your leisure and hobbies:
You should give priority to your leisure time activities and hobbies. Many people love gardening, fishing, cycling, singing, and so on. They should not compromise their hobbies for anything. It helps to give you peace mentally in your old age. It will be great fun for you when you are involved in such activities. Moreover, you won't be bored and feel stressed.
Take care of your body:
You should take care of your body when you get older. You need to boost your care for your skin, hair, teeth, etc. You should go to the doctor regularly. You must maintain a routine life to live long. You must do regular check-ups and monitor your health. Any sign of sickness should not be ignored by you.
Manage stress:
You should know how to manage stress. You should spend quality time with your friends and family members to avoid loneliness. You should do enjoyable activities. Try to have enough rest and relax for a while every day. Go for a walk inside your community and chitchat with others. Try to stay calm all the time.
Latest News