Ten Crowd-Free Alternatives to Overcrowded Tourist Destinations
By TOI Team November 13, 2023 Update on : November 13, 2023
Is there anything worse than being elbow-to-elbow with tourists when you're trying to enjoy your vacation?
From the charming streets of Charleston, South Carolina to the rugged cliffs of Big Sur, California, there are plenty of beautiful places to see in the United States that aren't overrun with tourists. For a more exotic escape, try one of the many lesser-known islands in Thailand or Greece.
If you're looking to escape the crowds, check out these…
10 crowd-free alternatives to popular tourist destinations
Sapa, Vietnam
If you're looking to avoid the crowds but still want to see some of Vietnam's most beautiful scenery, head to Sapa. This town in the country's northwest is surrounded by rice terraces, and is home to several ethnic minority groups.
While it is possible to do a day trip from Hanoi, it's worth spending a few days in Sapa to really explore the area. There are plenty of hikes in the rice terraces, and you can also visit waterfalls, hot springs, and caves. The ethnic minority villages are also interesting to explore, and you can try some of the region's traditional foods.
Riga, Latvia
Riga is often overlooked as a travel destination, but this small Baltic city has a lot to offer. From its beautiful Old Town to its many museums and galleries, Riga is a great city for those who want to avoid the crowds of more popular tourist destinations.
Although Riga is the capital of Latvia, it is still a relatively small city with a population of just over 700,000. This makes it much easier to navigate than cities like London or Paris, which can be overwhelming for first-time visitors. Riga is also very compact, so it's easy to explore on foot.
The Old Town is the heart of Riga and one of the most beautiful areas of the city. Here you'll find a mix of medieval architecture and Art Nouveau buildings, as well as a variety of shops and cafes. The old city walls and towers are also worth a visit, and from here you can get great views of the city.
Riga is home to many museums and galleries, including the Latvian National Museum of Art and the Riga Museum of Military History. There are also a number of parks and green spaces to explore, such as the Central Market and the Vermanes Garden.
If you're looking for a city that offers a more relaxed alternative to the usual tourist destinations, Riga is definitely worth a visit.
Krakow, Poland
Poland's beautiful and historic second city, Krakow, manages to inhabit a happy middle ground between being a tourist magnet and a relative hidden gem.
While it does see its share of visitors, Krakow is still very much a Polish city first and foremost, and one that takes pride in its traditions. As such, it's the perfect place to get a real sense of Polish culture, without the crowds and bustle of Warsaw.
Krakow's old town is a UNESCO world heritage site, and is one of the most atmospheric and well-preserved medieval city centres in Europe.
The main square, Rynek Glowny, is a bustling hive of activity day and night, and is ringed by beautiful historic buildings, including the imposing St Mary's Basilica. Just a few minutes' walk away is the Wawel Castle, home to Polish royalty for centuries and now a national symbol.
Krakow is also very much a university town, and has a young and vibrant feel as a result. The city center is full of cosy cafes, perfect for people watching, and there's a great music and arts scene.
If you're looking for an authentic Polish experience without the crowds, Krakow is the perfect place for you.
Tallinn, Estonia
Tallinn, Estonia is a beautiful, historic city that is unfortunately often overlooked by tourists. While it does get its fair share of visitors, it is nothing compared to other, more popular European destinations.
The city is situated on the Baltic Sea, and is the capital of Estonia. Tallinn is a very old city, dating back to the 13th century, and is full of well-preserved medieval architecture. This is one of the reasons why Tallinn is a UNESCO World Heritage Site. The city is also home to a number of museums and art galleries.
One of the best things about Tallinn is that it is relatively crowd-free. This is especially true in the old town, which is the most popular tourist area. So if you are looking to avoid the crowds and enjoy a more relaxed pace, Tallinn is certainly worth considering.
Prague, Czech Republic
Prague is one of those cities that's just as beautiful as it is popular. It regularly ranks amongst the most visited cities in Europe, and it's no wonder why.
With its stunning Gothic architecture, atmospheric old town squares and its fairytale castle overlooking the city, it's easy to see why Prague is so captivating.
But whilst Prague is an amazing place to visit, it can also be extremely crowded, especially in peak season. If you're looking to enjoy all that Prague has to offer without the crowds, then check out these five crowd-free alternatives.
Visit the Jewish Quarter
The Jewish Quarter is one of the most atmospheric areas of Prague. It's also where you'll find some of the best-preserved Jewish sites in Europe, including the Old Jewish Cemetery and the Old-New Synagogue.
With its narrow streets and labyrinth of alleyways, the Jewish Quarter is the perfect place to escape the hustle and bustle of the city centre.
Take a walk across the Charles Bridge
The Charles Bridge is one of Prague's most iconic landmarks. It's also one of the busiest, especially during peak tourist season.
However, if you visit early in the morning or later in the evening, you'll be able to enjoy the bridge without the crowds. This is also the best time to take in the stunning views of the castle and the city skyline.
Climb to the top of Petrin Hill
For the best views of Prague, make your way to Petrin Hill. This small hill in the centre of the city is home to the Petrin Observation Tower, which is a replica of the Eiffel Tower.
There are also a number of parks and gardens to explore, making Petrin Hill the perfect place to escape the hustle and bustle of the city.
Visit Prague Castle
Prague Castle is one of the most popular tourist attractions in the city. However, if you visit early in the morning, you'll be able to enjoy the castle grounds without the crowds.
Make sure to also visit St Vitus Cathedral, which is one of the most impressive Gothic cathedrals in Europe.
Explore the lesser-known neighborhoods
Prague is a city with plenty of hidden gems. If you want to avoid the crowds, then take some time to explore the lesser-known neighborhoods.
Some of our favourites include Vinohrady, Karlin and Dejvice. Each neighborhood has its own unique character, and you're sure to find some great bars and restaurants away from the tourist traps.
Bucharest, Romania
Bucharest is the capital and largest city in Romania, as well as its cultural, industrial, and financial center. It is located in the southeast of the country, on the banks of the Dâmbovița River.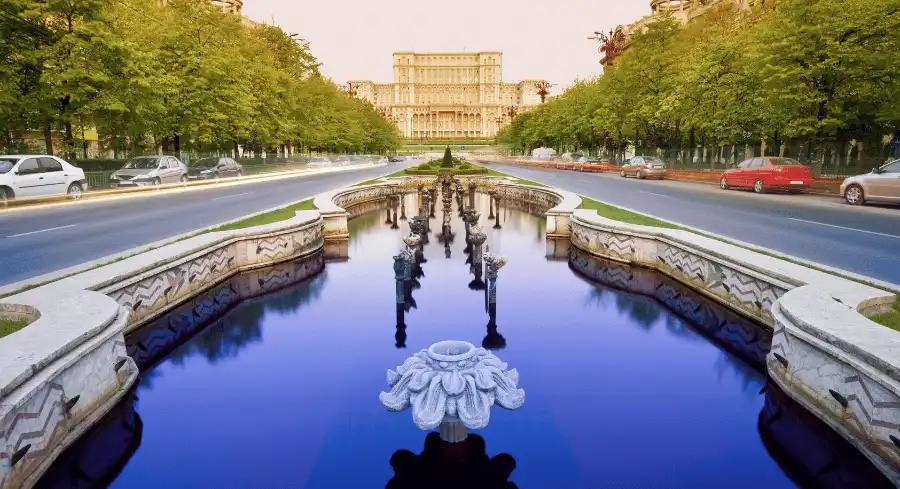 Bucharest was first mentioned in documents in 1459. It became the capital of Romania in 1862 and is the site of the country's Parliament Palace, the largest building in Romania.
Bucharest is a dynamic contemporary city with a bustling nightlife, an array of cuisines, and a rich cultural scene. However, it can be crowded and touristy in places. If you're looking to avoid the crowds, here are some alternatives to popular Bucharest attractions.
Take a walk in Herăstrău Park instead of going to the Romanian National History Museum. The park is a great place to get some fresh air and see some of Bucharest's greenery. The park also has a lake where you can go for a swim or a paddleboat ride.
Visit Cismigiu Gardens instead of the Royal Palace. The gardens are a beautiful oasis in the center of the city. They were first planted in 1845 and are full of flowers, trees, and fountains.
See a show at the State Jewish Theater instead of going to the Jewish History Museum. The theater produces plays and musicals in Hebrew and Yiddish, as well as Romanian. It is a great place to experience Jewish culture in Bucharest.
Shop at a local market instead of a mall. Bucharest has several large malls, but they can be crowded and expensive. For a more authentic shopping experience, head to a local market. You'll find fresh produce, flowers, and other goods at reasonable prices.
Visit the Bucharest Botanical Garden instead of the Museum of the Romanian Peasant. The garden is one of the largest in Europe and is home to over 10,000 types of plants. It is a great place to relax and enjoy nature.
Lviv, Ukraine
If you're looking for an alternative to an overcrowded tourist destination, Lviv, Ukraine is a great option. Situated in the Western Ukrainian region of Lviv Oblast, the city has a long and rich history, dating back to the 13th century.
Lviv is a city of many different cultures and religions, which is reflected in its architecture. The city center is full of beautiful buildings in a variety of styles, from Baroque and Rococo to Gothic and Renaissance.
There are plenty of things to see and do in Lviv. The city's main square, Rynok Square, is a great place to start. Here you'll find the City Hall, the Lviv Opera House and the High Castle, which offers wonderful views of the city.
Lviv is also home to a number of museums, including the Lviv History Museum, the Lviv Art Gallery and the Museum of Ethnography and Crafts.
If you're interested in the city's religious heritage, be sure to visit the Church of St. Nicholas, the Armenian Cathedral and the Dominican Cathedral.
With so much to see and do, Lviv is the perfect alternative to an overcrowded tourist destination.
Tbilisi, Georgia
Nestled in the heart of the South Caucasus region, Tbilisi, the capital of Georgia, offers an off-the-beaten-path travel experience. Known for its rich history, diverse culture, and stunning landscapes, Tbilisi remains a crowd-free gem for those seeking an authentic adventure.
The city boasts a charming old town with narrow winding streets, centuries-old churches, and unique architectural designs that showcase a blend of Eastern and Western influences.
Travelers can explore the Narikala Fortress, overlooking the city and the Mtkvari River, to capture breathtaking panoramic views. Georgia's distinctive cuisine, celebrated for its wine and flavorful dishes, can be savored in local restaurants without the bustling tourist crowds. With its friendly locals and affordable prices, Tbilisi provides an ideal backdrop for a tranquil, cultural escape.
Baku, Azerbaijanl
Baku, the capital of Azerbaijan, is a hidden gem in the Caspian Sea region. This cosmopolitan city seamlessly blends modernity with a rich historical past.
Visitors can explore the stunning Flame Towers, a trio of skyscrapers illuminated with captivating light displays, and the Heydar Aliyev Center, an architectural masterpiece.
Baku's historic old town, Icherisheher, is a UNESCO World Heritage site, offering a glimpse into the city's ancient roots, with its maze of narrow streets and historic landmarks.
While many travelers flock to well-known destinations, Baku remains relatively undiscovered, making it a peaceful escape.
Enjoy the serene Caspian Sea promenade, sample Azerbaijani cuisine, and delve into the country's intriguing history without the crowds typically found in more touristy locales.
Yerevan, Armenia
Yerevan, the capital of Armenia, stands as a charming and crowd-free tourist destination that boasts a rich cultural heritage. The city's wide boulevards, impressive Soviet-era architecture, and vibrant street art create a unique atmosphere.
Travelers can explore Republic Square, the heart of the city, where the National History Museum and the Art Museum are located.
One of the main draws of Yerevan is its strong café culture. The city is dotted with cozy cafes and restaurants where you can enjoy traditional Armenian coffee and cuisine.
Additionally, Yerevan is surrounded by natural wonders, such as Mount Ararat, visible on clear days, and the historic Garni Temple, both easily accessible from the city.
The warm hospitality of the Armenian people and the relaxed pace of life in Yerevan provide a serene experience for those seeking an alternative to crowded tourist destinations.
There are many alternatives to overcrowded tourist destinations. By doing some research, people can find plenty of options that fit their interests and avoid the crowds.
Whether you're looking for a place to relax or adventure, you're sure to find a crowd-free destination that suits your needs. So, next time you're planning a vacation, consider one of these fantastic places and avoid the tourist traps.
Read more

: Ten Crowd-Free Alternatives to Overcrowded Tourist Destinations
Latest News